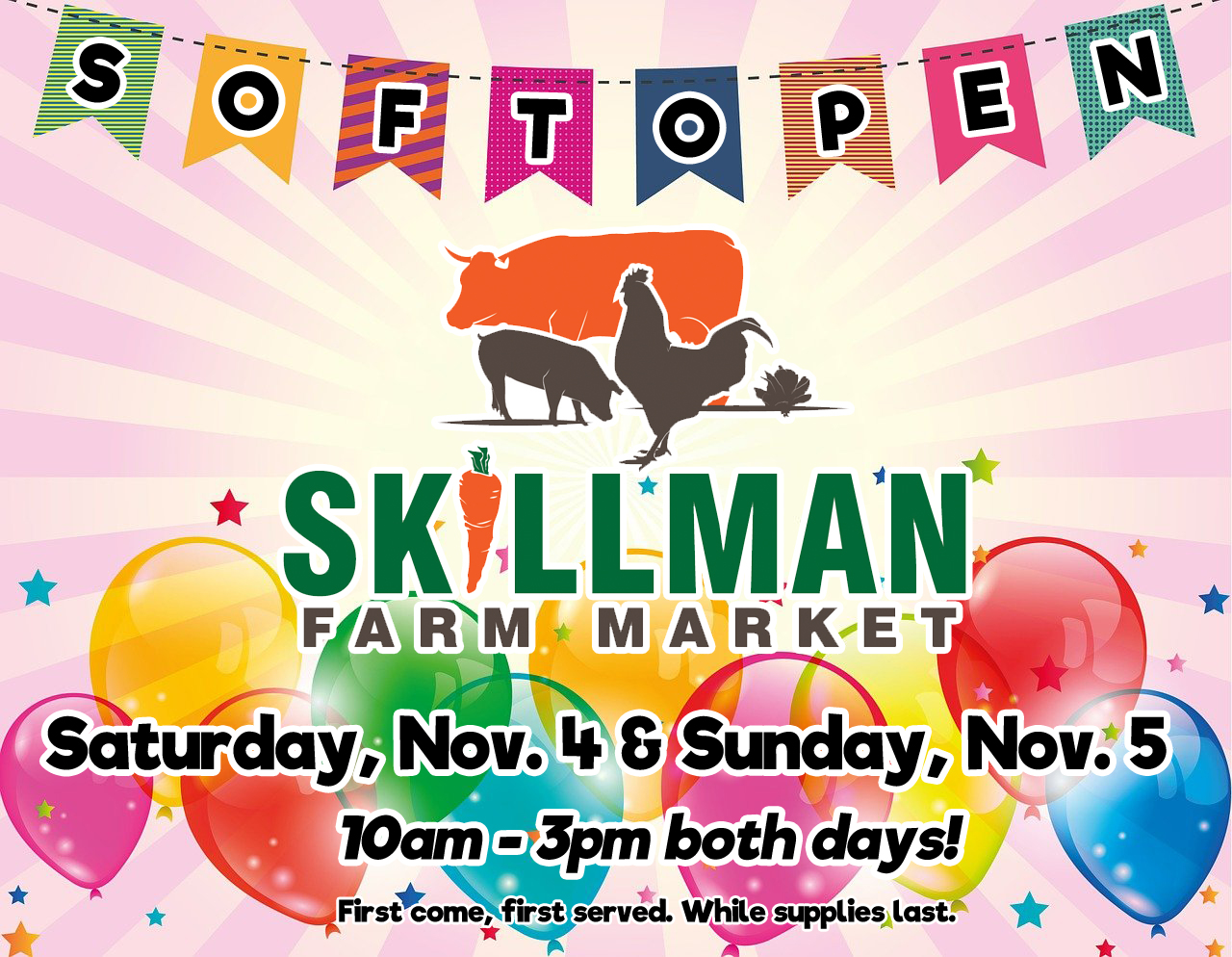 For those of you who may not have been following along, The shop has been closed since the end of September. Renovations at the shop were being completed and we were planning to sell to new owners.
After careful consideration, ownership of Skillman Farm Market and Butchershop will not be changing. Renovations are still being completed, and you can expect some exciting changes on shop offerings with our re-opening!!
We are hoping to have a grand re-opening on, or around, November 11th. However, we have had so many requests from customers, that we are going to do a soft opening this weekend.
Our shop will be OPEN Saturday, November 4 from 10am-3pm AND Sunday, November 5 from 10am-3pm.
We will have a limited supply of our fresh 100% grass-fed beef and all natural chicken products available (a list of what's available and prices can be found on our email newsletter at: https://mailchi.mp/c4ae579090fa/soft-opening or in the list below this post.
Chicken, ground beef and roasts can be pre-ordered by emailing Mark at mark@skillmanfarmmarket.com. All other products listed below will be first come, first served. Again, we will be open this Saturday and Sunday from 10am-3pm on both days.
We look forward to serving you again! More information on Thanksgiving orders will be coming soon.
Thank you for your continued support!
~ Skillman Farm Market and Butcher Shop
BEEF
Bacon Burger: $12.99/lb
Beef Kidney: $5.99/lb
Bottom Round Roast: $10.99/lb
Brisket: $16.99/lb
Chip Steak: $13.99/lb
Chuck Roast: $12.99/lb
Eye Round Roast: $12.99/lb
Fat: $5.99/lb
Filet Mignon: $41.99/lb ~ Limit 2 filet mignon steaks per customer
Flank Steak: $20.99/lb
Flat Iron Steak: $18.99/lb
Ground Beef: $10.99/lb
Hanger Steak: $18.99/lb
Heart: $5.99/lb
Liver: $6.99/lb
London Broil: $11.99/lb
Marrow Bones: $7.99/lb
NY Strip, Bone-in: $26.99/lb
Osso Bucco: $10.99/lb
Ox Tail: $12.99/lb
Ribeye, Bone-in: $29.99/lb ~ Limit 2 ribeye steaks per customer
Shank: $9.99/lb
Short Ribs, Bone-in: $14.99/lb
Sirloin Steak: $16.99/lb
Skirt Steak: $19.99/lb
Soup Bones: $5.99/lb
Stew Cubes: $10.99/lb
Tongue: $9.99/lb
Top Blade Roast: $16.99/lb
Top Round Roast: $10.99/lb
Tri-Tip Steak: $18.99/lb
CHICKEN
Breasts, Boneless: $12.99/lb
Thighs, Boneless: $9.99/lb
Whole Chickens: $7.99/lb