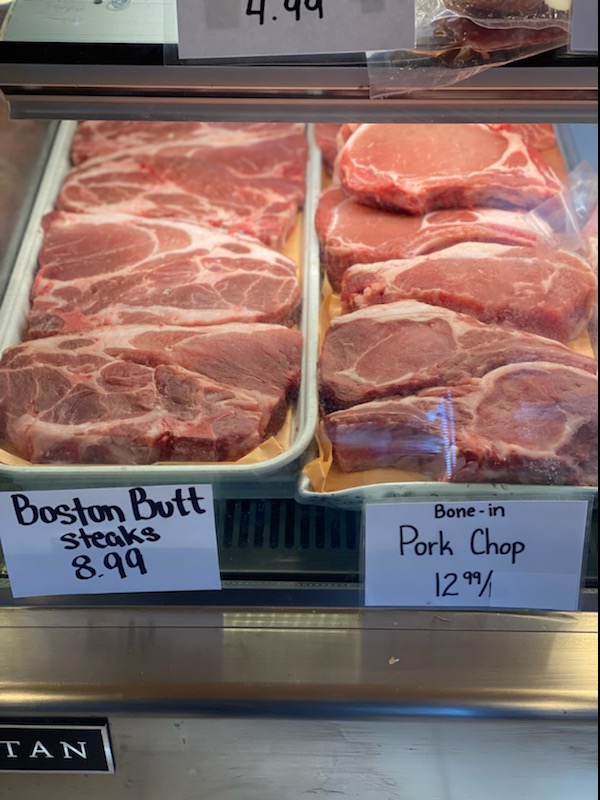 As your local butcher shop, we care about the products we offer our customers, which is why all of our meat comes from Simply Grazin' Farms. Their livestock is humanely raised on pasture, as nature intended. No added hormones or antibiotics.
Simply Grazin' raises pork at all of their locations- New Jersey, New York and Virginia. The pigs — including Mangalitsa, Berkshire, Duroc, and Landrace breeds, along with several other less common heritage varieties — live entirely outside except for the retrofitted barns they can move into, if they choose, during inclement weather.
The pigs roam free, eating free choice and non-GMO feed. They have access to shade, shelter and wallowing holes at all times. There are no gestation crates and no farrowing crates. They use natural breeding and let the mothers raise their young in as natural an environment they can provide.
Pork never comes to us frozen or in any type of box or bag. We deal only in whole animal butchery.
There are many advantages of buying meat from a butcher shop that does whole meat butchering.Perhaps one of the biggest advantages of choosing a shop that does whole animal butchering is that there isn't any room for doubt as to where your meat came from. The butcher can tell you exactly where the animal came from, it's feed, and everything else you may want to know about your meat.
Our meat is firm, moist, and full of porky flavor.
Our display cases are filled with fresh, locally-sourced pre-cut meat options. Need a specialty cut? Our butcher is happy to assist you !!