Denise Judge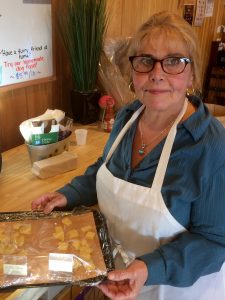 Denise managed Skillman Farm Market and Butcher Shop for the past year and a half, until recently when Doug was hired on as a full time butcher and Stacie took over the manager position.
Currently, her duties include assisting the butcher and working in the store front selling our products, promoting sales, educating customers on the value of our products and doing taste demos. Denise's true passion is top notch customer service. She was the Vice President of a grass roots company called "Service Excellence" until she had children and was unable to travel to teach customer service in universities. She absolutely loves retail and strives to build customer relationships and loyalty one customer at a time. She is as an important representative of Skillman Farm Market and Butcher Shop and is amazing at providing our customers with the details about our quality products.
Denise began working in the Mobile Processing Unit slaughtering chickens and also working in two butcher shops, as well as the Dukes establishment at that time. Prior to that she was a photographer and managed 26 photo labs, camera retail and 80 people directly.